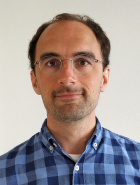 I am a scientific researcher in machine learning for medical image analysis from the Netherlands.
Say hello at or
Research interests
I work on domain adaptation and feature learning, and their applications in model-based medical image analysis. I am interested in the theoretical and practical aspects of machine learning and computer vision.
Open-source contributions
elasticdeform is a Python library for differentiable elastic deformations for N-dimensional images. It works on 2D, 3D and higher-dimensional images as a data augmentation method. It computes gradients for use with TensorFlow or PyTorch.

I was a contributor to Theano when it was still cool.
See my profile on GitHub for a few other projects.
Links
You can also find me here: